---
Hillside Residential Care Centre
177 Longwood Road HEATHFIELD 5153
Hillside Residential Care Centre
Hillside Residential Care Centre - HEATHFIELD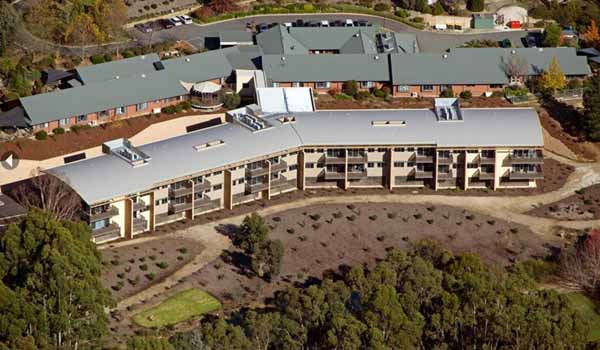 ---
Located in Heathfield in the centre of the picturesque Adelaide Hills, Hillside Aged Care is nestled amongst the tall trees and natural bushland providing peace, tranquillity and a safe haven for native birds and wildlife. In this natural surroundings, it is hard to believe that you are in close proximity to the local Stirling shops, including medical services, and only 15 kilometres from the City of Adelaide.
Home to 36 aged care residents and 24 collocated independent living apartments, Hillside Aged Care exudes warmth and intimacy with light filled rooms and windows leading out to picturesque garden and bushland views. Hillside Aged Care offers the choice of single and twin shared rooms with ensuites.
Hillside Aged Care is purposely designed with many shared communal spaces including internal courtyards and garden areas where residents, families and friends can also enjoy the beautiful gardens and bushland setting.
Healthy, delicious meals are prepared by our head chefs and food service teams and served where you prefer.
Moving In. Hillside Aged Care make your welcome experience as easy as it can be with a dedicated 'Move In' service to take care of the necessities, so that you can focus on settling in. This includes:
- Testing and tagging of electrical appliances
- Quality labelling of all clothing
- Room set up
- Welcome dining invitation for the family
Enhancing your living experience. Hillside Aged Care provides a range of popular Additional Services beyond the basics, including Dining Menu Choice, Weekly Hot breakfast, Social Happy Hour and Regular bus outings.
Hillside Aged Care are proud of the reputation of excellence that they have built in the local community. The highly qualified and experienced staff work around the clock, every day of the year giving you the comfort and security of knowing someone is on hand to provide care and services as and when needed.
Hillside Aged Care recognise the importance of offering variety and meaningful activity that complements our residents' individual lifestyle preferences. A diverse schedule of activities led by the lifestyle team can be tailored to meet individual needs - the choice is always yours.
---
---
Have a Question ? We're here to help.
---
Hillside Residential Care Centre - Location
---
177 Longwood Road , HEATHFIELD , 5153, SA
Beds: 36
Private Incorporated Body
Registered Aged Care Provider:
Allity Pty Ltd
---
Hillside Residential Care Centre
Access Accreditation Status: Accreditation Report
Source: Aged Care Quality Agency
RAD / DAP Combination Payment Estimator - updated 1st January 2020
Refundable Accommodation Payment (RAD) vs
Daily Accommodation Payment (DAP)
RAD can be paid as a combination of lump sum amount and ongoing daily payment.
Select the RAD for the room:
Total RAD: $
---
Use the slider to enter the lump sum payment component of the RAD payment to calculate the residual DAP to be paid.
Lump Sum : $
---
Your DAP will be: $20.20 each day
Current interest rate (MPIR) is: 4.91% pa (effective 1st January 2020)
The calculator provides an estimate only.

Contact Us for more information.