---
Holly Residential Care Centre
16-24 Penneys Hill Road HACKHAM 5163
Holly Residential Care Centre
Holly Residential Care Centre - HACKHAM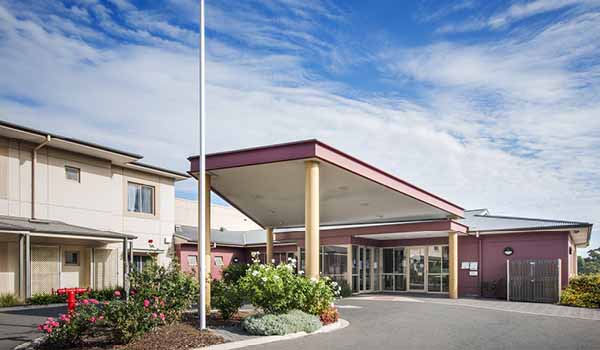 ---
Allity 2015 Home of the Year - Holly Aged Care
Holly Residential Care is conveniently located close to the southern end of the Southern Expressway, with the Onkaparinga River National Park close by. The home is situated on the bus route to Colonnades Shopping Centre less than 5kms away, and connected by other transport routes to the wider metropolitan area.
Spacious air-conditioned single and semi-single share rooms each have an en-suite bathroom. Residents enjoy an outlook onto landscaped gardens or attractive courtyards.
Holly Residential Care provides permanent, respite and palliative care. They encourage independence and lifestyle choices to suit each individual's needs and preferences. The homelike design presents a variety of indoor and outdoor spaces, providing an environment that supports social interaction between residents, staff and visitors while providing opportunities for privacy as desired.
Moving In. Holly Residential Care makes your welcome experience as easy as it can be with a dedicated 'Move In' service to take care of the necessities, so that you can focus on settling in. This includes:
- Testing and tagging of electrical appliances
- Quality labelling of all clothing
- Room set up
- Welcome dining invitation for the family
Holly Residential Care are proud of the reputation of excellence that they have built in the local community. The highly qualified and experienced staff work around the clock, every day of the year giving you the comfort and security of knowing someone is on hand to provide care and services as and when needed.
From our Families
My Mother (Marnie) was a resident at Holly for a little over four years. From the very beginning she always received the best of care in a warm, well maintained environment that she came to think of as her home. On the outside Holly appears to be a relatively recent purpose built age care building which has great facilities that meet all the requirements for safe and comfortable age care. However, what I believe is the real wonder of Holly are the amazing people within its walls.
What makes Holly special is the caring, professional staff and volunteers who generously give so much.
I was genuinely impressed with the dedication that everyone there brought to their roles. There existed a warm, caring environment that encouraged Marnie to exercise choices regarding her food, activities, outings and the level of social interaction she'd enjoy. I was encouraged to decorate her room with a few treasured possessions that quickly gave her a sense of belonging.
My admiration and gratitude for the Holly Residential Care people cannot be adequately expressed.
The high retention rate of staff at Holly Residential Care is a main factor in the quality of care residents enjoy - its reassuring ( as a relative ) to engage with the same individuals, but critically important to the elderly residents to have carers who know them, their likes and dislikes, their favourite flavour of cordial and whether its tea or milo at bedtime.
I never went home from Holly Residential Care worried about Mum's welfare. She was being so well looked after by Kylie, Krystal, Peggie, Elizabeth, Kym, Ian, Denise, Chris, Liz the list goes on. I can truly say in four years I never had cause to complain about any staff member.
Holly is a special place, made that way by the hardworking, dedicated people within its walls. I will be forever grateful that my Mum found a home there when she needed it most and that the amazing Holly Residential Care carers fulfilled the promise to make every day the best it could be for her.
Thank you to everyone at Holly.....Gail Brimson
---
---
Have a Question ? We're here to help.
---
Holly Residential Care Centre - Location
---
16-24 Penneys Hill Road , HACKHAM , 5163, SA
Beds: 140
Private Incorporated Body
Registered Aged Care Provider:
Allity Pty Ltd
---
Holly Residential Care Centre
Access Accreditation Status: Accreditation Report
Source: Aged Care Quality Agency
RAD / DAP Combination Payment Estimator - updated 1st January 2020
Refundable Accommodation Payment (RAD) vs
Daily Accommodation Payment (DAP)
RAD can be paid as a combination of lump sum amount and ongoing daily payment.
Select the RAD for the room:
Total RAD: $
---
Use the slider to enter the lump sum payment component of the RAD payment to calculate the residual DAP to be paid.
Lump Sum : $
---
Your DAP will be: $20.20 each day
Current interest rate (MPIR) is: 4.91% pa (effective 1st January 2020)
The calculator provides an estimate only.

Contact Us for more information.