---
Smithfield Residential Care Centre
1 Warooka Drive SMITHFIELD 5114
Smithfield Residential Care Centre
Smithfield Residential Care Centre - SMITHFIELD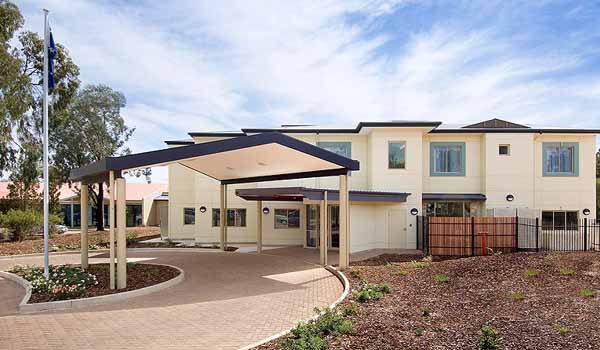 ---
Surrounded by extensive parklands, Smithfield Aged Care offers it all. Only a short walking distance from the Munno Para Shopping Centre, and easy access to public transport including the Smithfield Train Station, the location ensures ongoing engagement with the local community.
Home to 74 residents, the innovative design includes an internal shopping mall for that real sense of independence and community living. A coffee shop, hairdressing salon, second hand shop and chapel all support opportunities to socialise with friends and family.
Spacious, light filled single and semi-single rooms with private ensuites, enjoy outlooks to landscaped gardens and courtyards with easy access to enjoy the outdoors and a breath of fresh air.
At Smithfield Aged Care they are proud of the reputation of excellence that they have built in the local community. The highly qualified and experienced staff work around the clock, every day of the year giving you the comfort and security of knowing someone is on hand to provide care and services as and when needed.
Moving In. Smithfield Aged Care makes your welcome experience as easy as it can be with a dedicated 'Move In' service to take care of the necessities, so that you can focus on settling in. This includes:
- Testing and tagging of electrical appliances
- Quality labelling of all clothing
- Room set up
- Welcome dining invitation for the family
Enhancing your living experience. Smithfield Aged Care provides a range of popular Additional Services beyond the basics, including social happy hour, hot breakfast, in-room television and scheduled bus outings.
Smithfield Aged Care recognise the importance of offering variety and meaningful activity that complements our residents' individual lifestyle preferences. A diverse schedule of activities led by the lifestyle team can be tailored to meet individual needs - the choice is always yours.
What the Family members say:
"Smithfield is a lovely facility, the decor int the entrance area, the showcases in corridors - it is all extremely well thought out and presented and kept beautifully. The staff are very friendly and go that extra mile....food at Smithfield Aged Care is very good quality and is one of the best facilities I have seen, and I work in the aged care industry" - B.M. Coyle (3.11.2015)
---
---
Have a Question ? We're here to help.
---
Smithfield Residential Care Centre - Location
---
1 Warooka Drive , SMITHFIELD , 5114, SA
Beds: 74
Private Incorporated Body
Registered Aged Care Provider:
Allity Pty Ltd
---
Smithfield Residential Care Centre
Access Accreditation Status: Accreditation Report
Source: Aged Care Quality Agency
RAD / DAP Combination Payment Estimator - updated 1st January 2020
Refundable Accommodation Payment (RAD) vs
Daily Accommodation Payment (DAP)
RAD can be paid as a combination of lump sum amount and ongoing daily payment.
Select the RAD for the room:
Total RAD: $
---
Use the slider to enter the lump sum payment component of the RAD payment to calculate the residual DAP to be paid.
Lump Sum : $
---
Your DAP will be: $20.20 each day
Current interest rate (MPIR) is: 4.91% pa (effective 1st January 2020)
The calculator provides an estimate only.

Contact Us for more information.