---
Villa Serena
2 Easthill Drive ROBINA 4226
Villa Serena
Villa Serena - ROBINA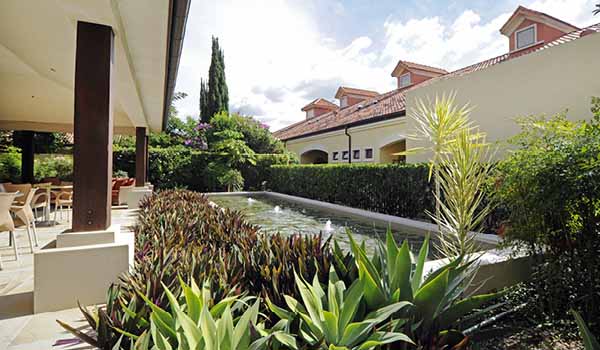 ---
Villa Serena
Ideally located on Queensland's Gold Coast, Villa Serena is situated in close proximity to Robina Town Centre, library, hospital, public transport and golf course, and offering its own stylish café and beauty spa, Villa Serena provides convenience with an unrivalled standard of aged care living and lifestyle, in a safe and secure environment.
Villa Serena exudes warmth, character and understated style, with classically elegant building architecture, furnishings and finishes, and Tuscan-style courtyard gardens reminiscent of the grand villas of Europe.
Villa Serena is an Extra-service home offering an extensive range of accommodation options, catering to all levels of care, secure dementia, palliative care and rehabilitation services. Couples are well accommodated for, with interconnecting rooms and apartment style living. Exceptional care and hospitality services are available for a wide range of resident dependency levels in the one community.
Moving In. Villa Serena makes your welcome experience as easy as it can be with a dedicated 'Move In' service to take care of the necessities, so that you can focus on settling in. This includes:
- Testing and tagging of electrical appliances
- Quality labelling of all clothing
- Room set up
- Welcome dining invitation for the family
In choosing Villa Serena as your new home, you become a member of the Allity family. This means much more than a place to live. It is an active community that understands the importance of companionship, values and encourages independence while ensuring support is on hand at all times.
---
---
Have a Question ? We're here to help.
---
Villa Serena - Location
---
2 Easthill Drive , ROBINA , 4226, QLD
Beds: 111
Private Incorporated Body
Registered Aged Care Provider:
Allity Pty Ltd
---
Villa Serena
Access Accreditation Status: Accreditation Report
Source: Aged Care Quality Agency
RAD / DAP Combination Payment Estimator - updated 1st January 2020
Refundable Accommodation Payment (RAD) vs
Daily Accommodation Payment (DAP)
RAD can be paid as a combination of lump sum amount and ongoing daily payment.
Select the RAD for the room:
Total RAD: $
---
Use the slider to enter the lump sum payment component of the RAD payment to calculate the residual DAP to be paid.
Lump Sum : $
---
Your DAP will be: $20.20 each day
Current interest rate (MPIR) is: 4.91% pa (effective 1st January 2020)
The calculator provides an estimate only.

Contact Us for more information.