FREE no-obligation meeting
One of our experienced senior relocation consultants can visit you to understand and document your requirements and to help build the moving plan.
During the meeting, we will explain our specialised services and gather your requirements to help build a tailored quote for the tasks to achieve your specific needs. We will subsequently discuss the quote and your preferred timetable with you before proceeding with the work plan.
We work to your requirements - Our services are available for a range of requirements, including moving from the family home to a retirement village, serviced apartment, assisted living or residential care home.
Making the Move
Whether you are moving to a retirement village, independent living unit, assisted living apartment, supported residential service or residential care home there are many items to consider and to plan for.
How much furniture will I be able to take ?
Can I take my own bed and comfortable chair ?
What is the floor plan and layout ?
Will my furniture fit in ?
We have a wide understanding of the concerns and tasks that need to be completed and we can do the work for you.
This means that you can focus on the emotional and personal needs of your relative during the transition time.
How Senior Moves Relocation Services can help you:
Declutter, catalogue and sort your personal belongings
Carefully pack, arrange trusted transport and unpack in the new home
Value and considerately dispose of your items
Deliver your unsalable items to various charities of your choice
Remove all items deemed as unsalvagable
Supply professional packing boxes and materials
Make sure that the home is "spick and span" for sale or future use
We reduce the emotional stress relating to relocating to a retirement village, assisted living apartment, supported residential service, or high care nursing home.
Decluttering before the Move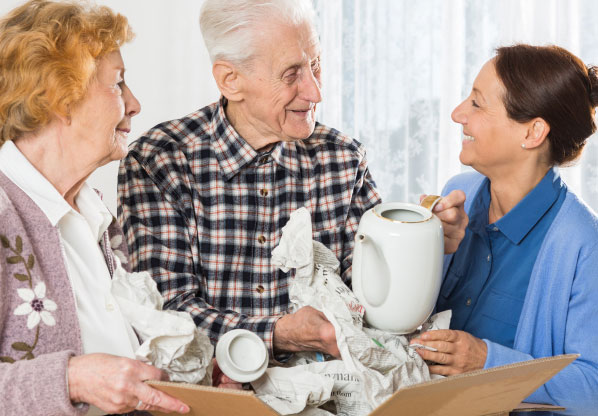 Senior Moves can assist you to organise your home.
Would you like a fresh set of eyes and a willing set of arms and legs to help you get organised?
A messy and disorganised home can reduce your productivity and affect you on an emotional level.
Deceased Estates
Are you required to manange a deceased estate? Do you need to look after their physical belongings, including the family home?
Senior Moves is able to assist you with the work involved with deciding what to do with person belongings.
We can have the premises organised and vacated to your requirements, whether it is for sale or for future use.
Senior Moves can:
Catalogue all valuable belongings
Pack all items for delivery to your chosen destinations
Value and sell items on your behalf
Donate items to charities
Remove all items deemed as rubbish
Arrange storage
Supply wholesale priced boxes and packing materials
Prepare the home for sale or future use
Senior Moves can minimise emotional and physical work involved in arranging the deceased estate to the family preferences