---
Bayside Hostel
5 McDonald Street MORDIALLOC 3195
Bayside Hostel
Bayside Hostel - MORDIALLOC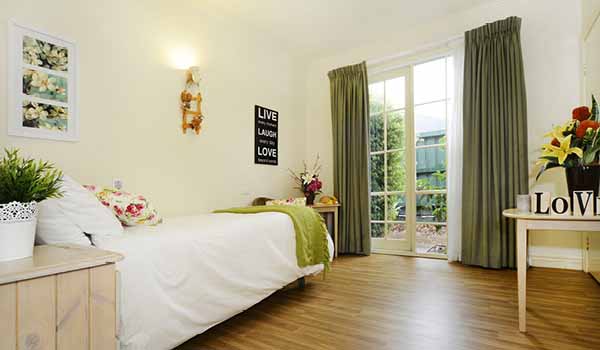 ---
Bayside Aged Care.
Bayside Aged Care offers permanent and respite accommodation and are specialists in Dementia care. Bayside provides a warm, family atmosphere with daily programs designed to enhance the quality of life for individuals living with Dementia.
Situated just 300 metres from the local Mordialloc Village Shopping Precinct and 500 meters from the beach and Port Phillip Bay, the residents have access to all the conveniences and recreational activities conducive to a healthy and active lifestyle. Local transport is also available with trains and buses only a short walk away with the convenience of a large medical centre across the road.
Each resident has the privacy of their own bedroom and ensuite designed to ensure comfort and security. Bayside Aged Care have a comprehensive lifestyle program, running 7 days/week and is purposefully linked to events and activities within the local community.
Moving In. Bayside Aged Care make your welcome experience as easy as it can be with a dedicated 'Move In' service to take care of the necessities, so that you can focus on settling in. This includes:
- Testing and tagging of electrical appliances
- Quality labelling of all clothing
- Room set up
- Welcome dining invitation for the family
Bayside takesd duty of care seriously. The first and highest priority is the comfort, security and happiness of each resident. Bayside Aged Care work together as a small community with residents, staff, family and friends sharing special relationships to make every day the best it can be.
Whether your need is immediate short term assistance or long term care, Bayside Aged Care look forward to providing you with the guidance and forward planning to make the transition to care with confidence.
---
---
Have a Question ? We're here to help.
---
Bayside Hostel - Location
---
5 McDonald Street , MORDIALLOC , 3195, VIC
Beds: 40
Private Incorporated Body
Registered Aged Care Provider:
Allity Pty Ltd
---
Bayside Hostel
Access Accreditation Status: Accreditation Report
Source: Aged Care Quality Agency
RAD / DAP Combination Payment Estimator - updated 1st January 2020
Refundable Accommodation Payment (RAD) vs
Daily Accommodation Payment (DAP)
RAD can be paid as a combination of lump sum amount and ongoing daily payment.
Select the RAD for the room:
Total RAD: $
---
Use the slider to enter the lump sum payment component of the RAD payment to calculate the residual DAP to be paid.
Lump Sum : $
---
Your DAP will be: $20.20 each day
Current interest rate (MPIR) is: 4.91% pa (effective 1st January 2020)
The calculator provides an estimate only.

Contact Us for more information.