---
Gosling Creek Aged Care
1501-1503 Forest Road ORANGE 2800
Gosling Creek Aged Care
Gosling Creek Aged Care - ORANGE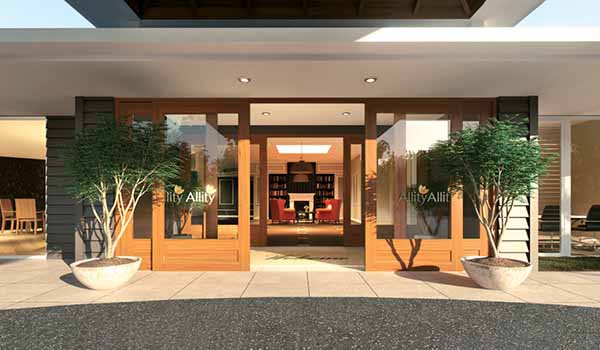 ---
Gosling Creek Aged Care
Located in Orange NSW, Gosling Creek Aged Care is a modern purposefully designed residence located close to the region's new health precinct. Positioned on a spacious 3.5 hectares of land and just 4km from the town centre, Gosling Creek Aged Care is country living at its best offering single and couples rooms, all with ensuite and most with veranda and garden access creates a friendly and bright atmosphere.
Gosling Creek Aged Care offers all levels of permanent and respite care in an environment that encourages independence and lifestyle choices to suit every individual. Gosling Creek Aged Care is committed to providing specialised sensitve care for individuals living with Dementia.
With its own Farm inspired by 'Bowie' the resident therapy dog, residents can enjoy the company of a small collection of specially trained animals including a goat, chickens and miniature horse - for many residents, this will make Gosling Creek Aged Care truly a home away from home.
The home: Inspired by the traditional 'Australian country homestead' with sweeping views, spacious surrounds and a complete wrap-around verandah, Gosling Creek Aged Care is in a class of its own. From the minute you walk in the door, you are greeted with the very best in style and service amid the warmth and grandeur of this uniquely designed home.
Moving In. Gosling Creek Aged Care make your welcome experience as easy as it can be with a dedicated 'Move In' service to take care of the necessities, so that you can focus on settling in. This includes:
- Testing and tagging of electrical appliances
- Quality labelling of all clothing
- Room set up
- Welcome dining invitation for the family
Living and Lifestyle: Family and friends are actively encouraged to participate in activities, events and celebrations or drop in for lunch or dinner. Dining is a special time for Residents with nutritious and tasty meals prepared daily by the head chef and the hospitality team. These are just some of life's pleasures which we strongly promote to support the lifestyle philosophy in making every day the best it can be for Residents.
At Gosling Creek Aged Care, the collective focus of qualified care and services staff is on wellness and encouraging our residents to live a full and meaningful life that complements each and every individual's choices.
---
---
Have a Question ? We're here to help.
---
Gosling Creek Aged Care - Location
---
1501-1503 Forest Road , ORANGE , 2800, NSW
Beds: 77
Private Incorporated Body
Registered Aged Care Provider:
Allity Pty Ltd
---
Gosling Creek Aged Care
Access Accreditation Status: Accreditation Report
Source: Aged Care Quality Agency
RAD / DAP Combination Payment Estimator - updated 1st January 2020
Refundable Accommodation Payment (RAD) vs
Daily Accommodation Payment (DAP)
RAD can be paid as a combination of lump sum amount and ongoing daily payment.
Select the RAD for the room:
Total RAD: $
---
Use the slider to enter the lump sum payment component of the RAD payment to calculate the residual DAP to be paid.
Lump Sum : $
---
Your DAP will be: $20.20 each day
Current interest rate (MPIR) is: 4.91% pa (effective 1st January 2020)
The calculator provides an estimate only.

Contact Us for more information.