---
Greenwood Aged Care
9-17 Hinemoa Avenue NORMANHURST 2076
Greenwood Aged Care
Greenwood Aged Care - NORMANHURST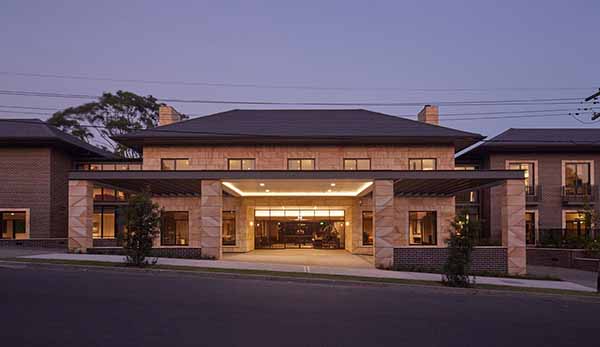 ---
Greenwood Aged Care
Located in Sydney's northern suburbs precinct of Wahroonga / Normanhurst, this aspirational Signature home is now open. The architecture is inspired by the upper north shore manor house, purposefully designed recognising the importance of respecting and enhancing the existing character of the neighbourhood. Greenwood Aged Care exudes sophistication yet projects the warmth and character of an elegant home.
When you move into Greenwood Aged Care, you become a part of a broader community. With 5 unique neighbourhoods to choose from, each housing its very own lounge and dining area, residents can enjoy absolute comfort and convenience, no matter where you live.
The home: Choose between a 1st floor room with Juliette-style balconies or have direct access to a courtyard and/or garden. All single rooms and suites are generously sized ready for you to personalise just the way you like it. The beautifully appointed bedrooms with private ensuites have large windows or glass doors, expansive doorways and are generously furnished with king-single beds.
Moving In. Greenwood Aged Care make your welcome experience as easy as it can be with a dedicated 'Move In' service to take care of the necessities, so that you can focus on settling in. This includes:
- Testing and tagging of electrical appliances
- Quality labelling of all clothing
- Room set up
- Welcome dining invitation for the family
Living and Lifestyle: Featuring extensive outdoor areas with manicured and play gardens, the large existing trees define the central courtyard providing substantial shade to be enjoyed by residents, friends and family members. Various private gardens with paved patios and outdoor seating offer more intimate experiences for the choosing.
Introducing Allity's Signature Services. Experience an aspirational level of lifestyle and services that focus on making sure every day is the best it can be. Signature Services include a suite of carefully selected, good value service offerings over and above the basic aged care requirements, all of which are available to you at your leisure. The Daily Signature Services include:
Platinum Foxtel - 90 channels with Widescreen HDTV
Resident Wi-Fi and internet kiosks
Exceptional dining choices including buffet breakfasts and selection of wine and beer with meals
Private Dining planned with our executive chef to ensure the experience is every thing you want it to be
Lifestyle programs for music, art and craft appreciation, theatre, dance and creative writing
Private dining
---
---
Have a Question ? We're here to help.
---
Greenwood Aged Care - Location
---
9-17 Hinemoa Avenue , NORMANHURST , 2076, NSW
Beds: 107
Private Incorporated Body
Registered Aged Care Provider:
Allity Pty Ltd
---
Greenwood Aged Care
Access Accreditation Status: Accreditation Report
Source: Aged Care Quality Agency
RAD / DAP Combination Payment Estimator - updated 1st January 2020
Refundable Accommodation Payment (RAD) vs
Daily Accommodation Payment (DAP)
RAD can be paid as a combination of lump sum amount and ongoing daily payment.
Select the RAD for the room:
Total RAD: $
---
Use the slider to enter the lump sum payment component of the RAD payment to calculate the residual DAP to be paid.
Lump Sum : $
---
Your DAP will be: $20.20 each day
Current interest rate (MPIR) is: 4.91% pa (effective 1st January 2020)
The calculator provides an estimate only.

Contact Us for more information.