---
Lilydale Aged Care
475 Swansea Road LILYDALE 3140
Lilydale Aged Care
Lilydale Aged Care - LILYDALE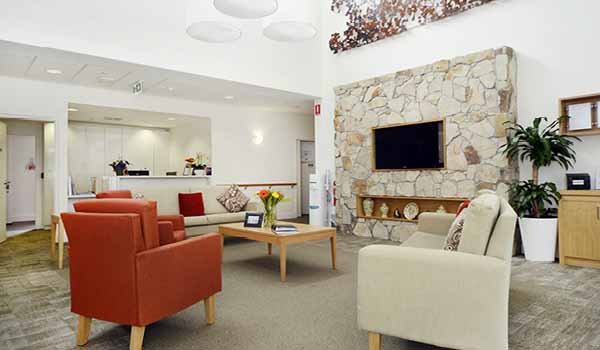 ---
Lilydale Aged Care.
A newly refurbished state of the art home, Lilydale offers elegant and relaxing surroundings for residents and visitors with 24 hour care provided by professional and friendly staff.
Catering for all levels of permanent and respite care, the Allity Lilydale home is purpose built offering the ultimate in comfort, in a secure environment on the picturesque shores of Lilydale Lake.
Moving In. Allity will make your welcome experience as easy as it can be with a dedicated 'Move In' service to take care of the necessities, so that you can focus on settling in. This includes:
Testing and tagging of electrical appliances
Quality labelling of all clothing
Room set up
Welcome dining invitation for the family
Enhancing your living experience. Lilydale Aged Care provides a range of popular Additional Services beyond the basics, including your own in-room television, weekly home cooked hot breakfast, social happy hour, Wi-Fi and regular bus outings.
In choosing Lilydale as your new home, you become a member of our Allity family. This means much more than a place to live. It is an active community that understands the importance of companionship, values and encourages independence while ensuring support is on hand at all times.
If life's day to day tasks are becoming increasingly challenging, we have the expertise to help you or a family member make informed choices about aged care that best suits your individual circumstances. Whether the need is immediate short term assistance or long term care, They look forward to providing you with the guidance and forward planning to make the transition to care with confidence.
---
---
Have a Question ? We're here to help.
---
Lilydale Aged Care - Location
---
475 Swansea Road , LILYDALE , 3140, VIC
Beds: 96
Private Incorporated Body
Registered Aged Care Provider:
Allity Pty Ltd
---
Lilydale Aged Care
Access Accreditation Status: Accreditation Report
Source: Aged Care Quality Agency
RAD / DAP Combination Payment Estimator - updated 1st January 2020
Refundable Accommodation Payment (RAD) vs
Daily Accommodation Payment (DAP)
RAD can be paid as a combination of lump sum amount and ongoing daily payment.
Select the RAD for the room:
Total RAD: $
---
Use the slider to enter the lump sum payment component of the RAD payment to calculate the residual DAP to be paid.
Lump Sum : $
---
Your DAP will be: $20.20 each day
Current interest rate (MPIR) is: 4.91% pa (effective 1st January 2020)
The calculator provides an estimate only.

Contact Us for more information.