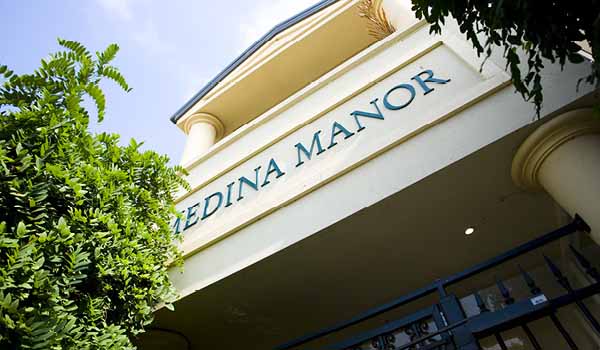 Free Aged Care Vacancies List
Receive a list of current vacancies for your preferred location.
Medina Manor is located in Thornbury within the heart of Melbourne's North West. The home offers all levels of permanent or respite care and is recognised for its expertise in caring for people living with Dementia. As a secure dementia specific Home, Medina's care services are focused on creating an environment that supports residents in living fulfilling and stimulating lives where they can continue to thrive.
Medina Manor has their own dementia consultant and culturally appropriate/linguistic dementia trained staff who are recognised for their consistent achievement of benchmarked standards within dementia care. The approach is centred on encouraging residents to live independently while providing assistance as required across all activities of daily living.
Features
Capabilities to support "Ageing in Place" providing support and care as resident's medical and care needs change.
Emergency call system in all rooms and bathrooms.
Hairdressing, Podiatry, Physiotherapy & Dietician included.
Multilingual staff to cater for the needs of English and multicultural residents.
Permanent & respite care
Pharmacy services offered.
Private function room for special family events
Safe, caring and supportive environment
Single rooms all with ensuites.
Spacious lounge areas.
Wireless Internet Connection (Wi-Fi)
Need Further Assistance ?
Are you considering respite care, convalescent care, or permanent care for your elderly loved one at Medina Manor ?
Or you may be seaching for an immediate vacancy at a similar aged care home close to THORNBURY ?
Senior Moves can provide an independant and experienced comparison of Medina Manor, including services delivered and the financials, in relation to other aged care homes around THORNBURY.
Senior Moves is a respected aged care placement service and can assist you immediately.

200a Smith Street , THORNBURY , 3071, VIC
Residents: 44
Type: Private Incorporated Body
Provider:
Allity Pty Ltd
Medina Manor
Accreditation Status: Accreditation Report
Source: Aged Care Quality Agency
RAD / DAP Calculator

RAD / DAP Calculator - effective 1st April 2021

Select Agreed RAD Amount: $

Use the slider to enter the lump sum of the RAD
to calculate the DAP to be paid.

Lump Sum of RAD Paid : $

Ongoing DAP Payment:$20.20 per day

Contact Us for more information.

Current interest rate (MPIR) is: 4.01% pa (effective 1st April 2021)
The calculator provides an estimate only.