---
Medina Manor
200a Smith Street THORNBURY 3071
Medina Manor
Medina Manor - THORNBURY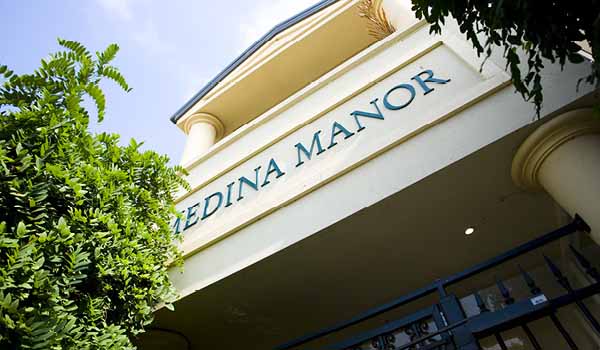 ---
Medina Manor Aged Care
Medina Manor is located in Thornbury within the heart of Melbourne's North West. The home offers all levels of permanent or respite care and is recognised for its expertise in caring for people living with Dementia.

As a secure dementia specific Home, Medina's care services are focused on creating an environment that supports residents in living fulfilling and stimulating lives where they can continue to thrive.
Along with Allity's own dementia consultant, they have culturally appropriate/linguistic dementia trained staff who are recognised for their consistent achievement of benchmarked standards within dementia care. The approach is centred on encouraging residents to live independently while providing assistance as required across all activities of daily living.
Moving In. Medina Manor will make your welcome experience as easy as it can be with a dedicated 'Move In' service to take care of the necessities, so that you can focus on settling in. This includes:
- Testing and tagging of electrical appliances
- Quality labelling of all clothing
- Room set up
- Welcome dining invitation for the family
Family members and friends are always welcome, and are an integral part of the warm community feel of Medina Manor.
A letter from Simon Hauser, son Vern Hauser:
"I just wanted to say thank you to you and all the staff at Medina Manor. Vern was only there a short while, but it was the first time in three years that I wasn't anxious about him and felt that he was getting the care that he needed. He had a tough time with dementia and towards the end of his life he needed specialised care to keep him calm and secure which Medina Manor provided very effectively. Visiting an aged care home is not necessarily a pleasant experience, but I found the atmosphere at Medina Manor to be very welcoming, bright and peaceful".
---
---
Have a Question ? We're here to help.
---
Medina Manor - Location
---
200a Smith Street , THORNBURY , 3071, VIC
Beds: 44
Private Incorporated Body
Registered Aged Care Provider:
Allity Pty Ltd
---
Medina Manor
Access Accreditation Status: Accreditation Report
Source: Aged Care Quality Agency
RAD / DAP Combination Payment Estimator - updated 1st January 2020
Refundable Accommodation Payment (RAD) vs
Daily Accommodation Payment (DAP)
RAD can be paid as a combination of lump sum amount and ongoing daily payment.
Select the RAD for the room:
Total RAD: $
---
Use the slider to enter the lump sum payment component of the RAD payment to calculate the residual DAP to be paid.
Lump Sum : $
---
Your DAP will be: $20.20 each day
Current interest rate (MPIR) is: 4.91% pa (effective 1st January 2020)
The calculator provides an estimate only.

Contact Us for more information.