---
Pemulwuy Aged Care
11 Pastoral Circuit PEMULWUY 2145
Pemulwuy Aged Care
Pemulwuy Aged Care - PEMULWUY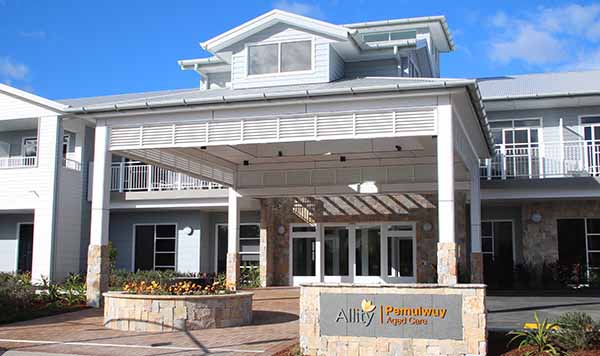 ---
Pemulwuy Aged Care
Located 30 kilometres west of Sydney's Central Business District, it is home to many parks and recreational reserves. A brand new, purpose built Home, Pemulwuy Aged Care offers affordable Premium quality accommodation. The first of its kind in the local community, residents enjoy an aspirational living environment and service offering unlike any other.
Pemulwuy Aged Care has a selection of single room accommodation with private ensuites. All rooms have been purposefully designed to provide residents with a view to peaceful landscaped gardens or charming courtyards for that morning stroll or quiet time with a good book.
Pemulwuy Aged Care wide range of garden areas, lounges and dining rooms are perfect for entertaining family and friends. Private dining can be booked for special occasions or alternatively catch up at the cafe for a more casual bite.
Whether the need is immediate short term assistance or long term care, Pemulwuy Aged Care look forwward to providing you with the guidance and forward planning to make the transition into care with confidence.
---
---
Have a Question ? We're here to help.
---
Pemulwuy Aged Care - Location
---
11 Pastoral Circuit , PEMULWUY , 2145, NSW
Beds: 130
Private Incorporated Body
Registered Aged Care Provider:
Allity Pty Ltd
---
Pemulwuy Aged Care
Access Accreditation Status: Accreditation Report
Source: Aged Care Quality Agency
RAD / DAP Combination Payment Estimator - updated 1st January 2020
Refundable Accommodation Payment (RAD) vs
Daily Accommodation Payment (DAP)
RAD can be paid as a combination of lump sum amount and ongoing daily payment.
Select the RAD for the room:
Total RAD: $
---
Use the slider to enter the lump sum payment component of the RAD payment to calculate the residual DAP to be paid.
Lump Sum : $
---
Your DAP will be: $20.20 each day
Current interest rate (MPIR) is: 4.91% pa (effective 1st January 2020)
The calculator provides an estimate only.

Contact Us for more information.