---
Princeton View
29 Heathfield Road BRIGHTON EAST 3187
Princeton View
Princeton View - BRIGHTON EAST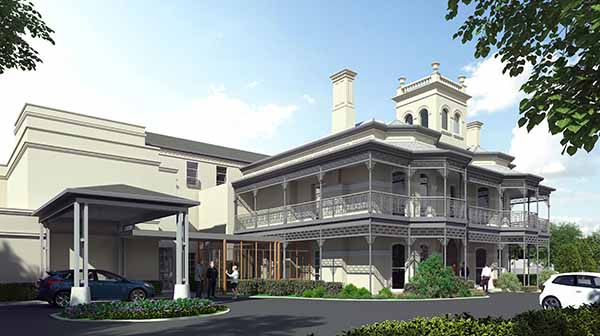 ---
THE MANOR RE-OPENS
Newly renovated, the heritage listed Princeton View Manor is now open to welcome residents with a limited number of suites available. The exquisite Signature Home surpasses any aged living residence incorporating the clever integration of contemporary design with the beauty and elegance of the traditional manor style architecture. Together with the introduction of Allity's Signature Service offering, the new Home will forever change the perceptions of aged care.
Located in Melbourne's aspirational suburb of Brighton East, Princeton View Aged Care is built on the St John of God Hospital site, encompassing the National Heritage Listed 'Mansion'. This elegant Home combines the beautiful architecture of the old, with the stunning building lines of the new.
Moving In. Princeton View Aged Care makes your welcome experience as easy as it can be with the dedicated 'Move In' service to take care of the necessities, so that you can focus on settling in. This includes:
- Testing and tagging of electrical appliances
- Quality labelling of all clothing
- Room set up
- Welcome dining invitation for the family
Enhancing your living experience. Enjoy a Signature Lifestyle with a carefully selected menu of entertainment, technology, dining and lifestyle services and experiences, delivered through Allity's exclusive Live Love ShineTM Program.
Princeton View Aged Care welcomes all levels of permanent and respite care. Princeton View Aged Care offer 'ageing in place' providing residents the opportunity to remain within local area in which they are familiar and have grown to love.
The team of qualified staff adopt a holistic and personalised approach to caring for the residents. Encouraging family and friends to be involved in activities is an important part of the lifestyle philosophy in making every day the best it can be for the residents.
In choosing Princeton View as your new home, you become a member of the Allity family. This means much more than a place to live. It is an active community that understands the importance of companionship, values and encourages independence while ensuring support is on hand at all times.
If life's day to day tasks are becoming increasingly challenging, Princeton View Aged Care has the expertise to help you or a family member make informed choices about aged care that best suits your individual circumstances. Whether the need is immediate short term assistance or long term care, Princeton View Aged Care look forward to providing you with the guidance and forward planning to make the transition to care with confidence.
More from our families....
"Even though we always extend our appreciation and thanks to the wonderful team of Carers at every opportunity we can, on behalf of my sister and I, we would like to say a heartfelt thank you, to all of you, who so consistently, respectfully, carefully and kindly take care of our parents, Margaret and Peter Stilwell, every single day.
We can assure you that we never take what the Princeton View Aged Care team does for granted and is so incredibly grateful for the comfort and care they provide to them both…we have watched over almost 6 years with Mum, and a little less for Dad, how they have aged and changed, and how you help us manage this…for every resident and their families, it gives us great comfort knowing that the Carers do what they do to make each and every day that much more comfortable.
Every single time either my sister or I come in, no matter what time of the day, we are always greeted with 'hello and a smile' from the staff, and that in itself is always nurturing.
Our deepest and sincerest thank you to you all, with enormous appreciation and gratitude…you do a wonderful job under we know sometimes very challenging circumstances…nothing is every too much trouble (and we know there are times we know it is but you do it anyway when we can't!)…Thank You, Thank You, Thank You"
Claire Jackson and on behalf of Jenny Stilwell - 14-Nov 2018
---
---
Have a Question ? We're here to help.
---
Princeton View - Location
---
29 Heathfield Road , BRIGHTON EAST , 3187, VIC
Beds: 128
Private Incorporated Body
Registered Aged Care Provider:
Allity Pty Ltd
---
Princeton View
Access Accreditation Status: Accreditation Report
Source: Aged Care Quality Agency
RAD / DAP Combination Payment Estimator - updated 1st January 2020
Refundable Accommodation Payment (RAD) vs
Daily Accommodation Payment (DAP)
RAD can be paid as a combination of lump sum amount and ongoing daily payment.
Select the RAD for the room:
Total RAD: $
---
Use the slider to enter the lump sum payment component of the RAD payment to calculate the residual DAP to be paid.
Lump Sum : $
---
Your DAP will be: $20.20 each day
Current interest rate (MPIR) is: 4.91% pa (effective 1st January 2020)
The calculator provides an estimate only.

Contact Us for more information.