Need Further Assistance ?
Are you considering respite care, convalescent care, or permanent care for your elderly loved one at Baptcare The Orchards Community ?
Or you may be seaching for an immediate vacancy at a similar aged care home close to DONCASTER EAST ?
Senior Moves can provide an independant and experienced comparison of Baptcare The Orchards Community, including services delivered and the financials, in relation to other aged care homes around DONCASTER EAST.
Senior Moves is a respected aged care placement service and can assist you immediately.

Need more information? Contact Us.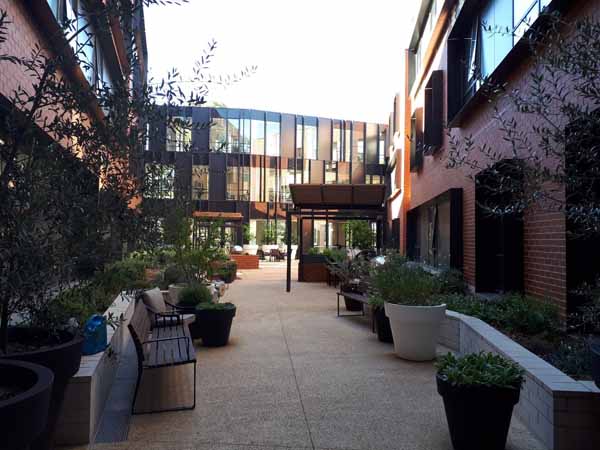 Facilities and Services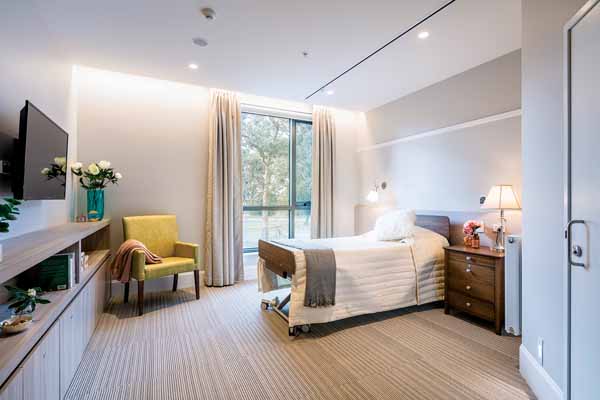 Having recently undergone a major expansion and transformation, Baptcare The Orchards Community represents a new chapter in the proud history of The Orchards site in Doncaster East.
The large state-of-the-art facility continues a 30-year legacy of supporting older people in the local community, with a highly experienced nursing-led team that provide all levels of care.
The Orchards has been designed to create a true sense of community and fully support individual lifestyles and interests – residents can live the way they want, knowing they have the care they need.
The friendly site managers would love to take you on a personal tour of The Orchards, so contact us to arrange your tour.
The contemporary, four-storey building has 150 private rooms, catering to all levels of care. Each floor is divided into three wings, with rooms grouped into smaller communities that share dining and living areas. Residents can spend time in one of the many communal spaces at The Orchards. The large terrace has spectacular views and is the perfect place to soak up the sun, while the 'winter garden' walkways on each level provide a peaceful sitting area with internal and external views that can be enjoyed in all weather conditions. They also have internal landscaped courtyards with comfortable seating areas, and a large activity room on the ground floor. These shared spaces contribute to the strong community feel at The Orchards.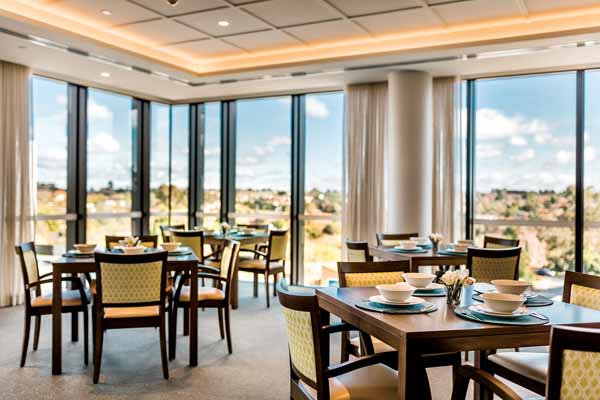 Room types
The Orchards offers private, sole-occupied rooms. Your room is your own space, so you can decorate it however you like, e.g. by hanging paintings or bringing in your favourite quilt. All of the rooms at The Orchards are bright and comfortable, featuring:
Private ensuite bathroom
High-quality furniture and fittings
A flat-screen TV
Individually controlled air-conditioning and hydronic heating
Built-in wardrobes with lockable storage
Picture rails and built-in display shelving
Large windows and pleasant views
And if you want something more special, the Eucalyptus rooms are unrivalled. These spacious rooms have views to the city or to surrounding parks, and feature first-class finishes, including fine linen and special bathroom tiles.
Care tailored to your specific needs
The Orchards is accredited to provide all levels of residential aged care (low to high), as well as respite care and end-of-life (palliative) care. Where possible this wide range of capabilities allows the Orchards to provide 'ageing-in-place', meaning that residents can stay at The Orchards even if their health changes or their needs increase. The staff make it their priority to fully understand each resident's individual requirements so they can tailor the care they provide accordingly.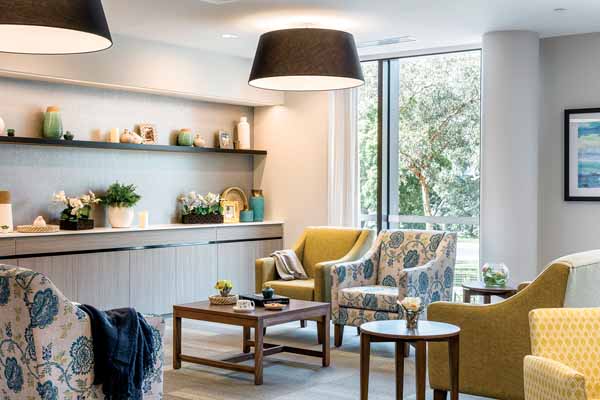 Nursing care
Qualified and experienced staff provide the highest quality of nursing-led care, with registered nurses on-site 24 hours a day, seven days a week. Team members are assigned to a specific group of residents to enable continuity of care and ensure that staff represent a constant, familiar presence in residents' lives. And many of the nurses and personal care staff are multi-lingual, with current staff fluent in Greek, Italian, Mandarin, Swahili, Filipino, Hindi and many other languages.
Medical care
Beyond 24/7 nursing care, other health services available on-site at The Orchards include:
Foot care and podiatry
Physiotherapy
Speech therapy
Diversional therapy
GP home visits.
For acute clinical issues, we work with an in-reach acute services program to help avoid unnecessary admissions to hospital.
Nutritional care
Residents are offered a choice of tasty, healthy meals prepared by chefs on-site, including delicious fresh soups that are made from scratch daily. Meal options come at no additional cost to the residents. The menu, which is on a four-weekly rotating cycle, is planned with a specialist dietician to ensure nutritional needs are met. They can accommodate specific dietary requirements (e.g. diabetic-friendly or gluten-free alternatives).
Keep up with your favourite pastimes
The lifestyle program is arranged with all residents in mind, with a focus on activities that encourage community interaction. Diverse activities are spread throughout the day, so residents can join in with activities they like, when it suits them. They offer gentle and fun exercises such as balance class, indoor bowls and a walking group to promote active lifestyles. Residents can maintain their interests and hobbies, all while making new friends, through the cooking club, gardening group and Men's Shed. And to help sustain active minds, they offer various games, such as bingo, scrabble and word games, and have music therapy sessions and regular concerts.
A community within a community
The Orchards has a strong connection with the local community. The site's original aged care community was established by members of Templestowe Baptist church, and they maintain a close relationship with the church, which is located adjacent to our site. They also promote community interaction through regular bus outings to local places of interest, and through a buddy program with local school children who visit regularly. The Orchards is also lucky to have a committed network of volunteers from the local community who participate in activities and provide companionship to the residents.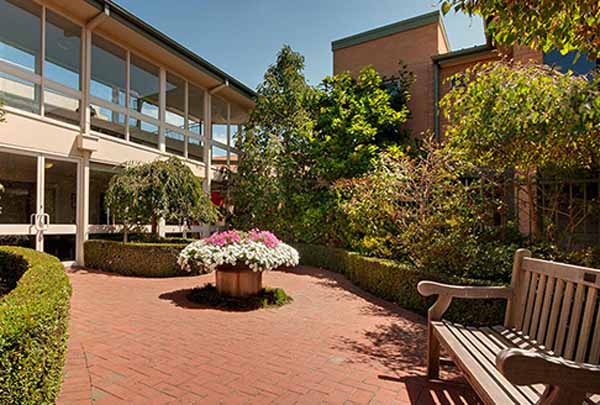 Room to host family and friends
Baptcare The Orchards Community is home for the residents, and they welcome visitors at any time of the day. Visitors add to the strong sense of community that they pride ourselves on at The Orchards. They invite family, friends and even pets to use the shared spaces, gardens and facilities, and they have play areas that are perfect for keeping grandchildren entertained. For times when family are unable to visit in person, such as when they are overseas or tied up at work, they have an online portal that families can access and upload photos for residents.
Pastoral care
Pastoral care is an important part of life at all Baptcare communities, including The Orchards. The chaplains are available to listen to residents and their families and journey alongside them, whatever their background or situation. They offer emotional and spiritual support, honouring each person's unique spirituality and how they find meaning and purpose. The chaplains also assist with prayer, worship, sacraments and other spiritual practices, including regular devotional and church services where appropriate.
Social and recreational support
Baptcare want life at The Orchards to be stimulating and full of activity. There are plenty of opportunities for residents to socialise, whether that be at Friday night drinks, the special 'dinner for two' restaurant-style dining experience, or simply spending time in one of the many communal areas. They also offer many on-site services as part of the 'Living Well Essentials' package, which all residents receive for an additional fee. These include laundry (and labelling of clothing), newspaper delivery, phone line rental, appointments at the Ora hair and beauty salon, and coffee, tea and snacks at the mobile kiosk.
The comfort of familiar routines
The model of care at The Orchards prioritises consistent daily routines that reassure residents and inspire confidence. However, they do encourage residents to try new activities and become actively involved in community life so they can maintain their interests and enjoy a full life.
MPIR increased to 5.00%
The Maximum Permissible Interest Rate (MPIR) increased to 5.00% pa on 1st July 2022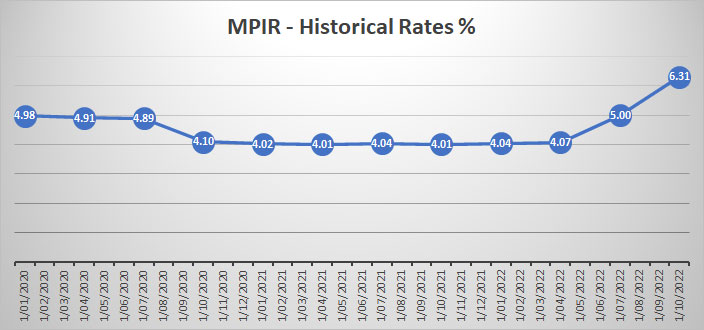 Learn more about RAD, DAP and MPIR...
---