Need Further Assistance ?
Are you considering respite care, convalescent care, or permanent care for your elderly loved one at Ferndale Gardens ?
Or you may be seaching for an immediate vacancy at a similar aged care home close to MORTDALE ?
Senior Moves can provide an independant and experienced comparison of Ferndale Gardens, including services delivered and the financials, in relation to other aged care homes around MORTDALE.
Senior Moves is a respected aged care placement service and can assist you immediately.

Need more information? Contact Us.
Ferndale Gardens is conveniently located on Bayswater Road, between Canterbury and Eastfield Roads, and not far at all from the Eastlink freeway.
Public transport will bring you right to Ferndale Gardens doorstep, with trains to Bayswater station and the connecting 664 bus service.
Ringwood, Bayswater and the local Eastfield shopping centres are nearby, providing a comprehensive range of shops, cafés, entertainment and essential services for you and your family.
Maroondah Hospital is also only a short distance away, should the need arise.
Ferndale Gardens offers comfortable rooms with private ensuite access and ample space for personal furnishings and important keepsakes.
A choice of 4 room types enables residents to have accommodation that meets their needs and budget, with access to a full range of community amenities.
All rooms are tastefully presented with a fully adjustable bed, bedside table, over bed table, visitor chair, robe and individual heating as standard.
The Accommodation Payment (cost of the room) can be funded as a RAD (Refundable Accommodation Deposit), DAP (Daily Accommodation Deposit) or a combination of both.
Not all residents are required to pay for their accommodation, Low Means residents may be eligible for assistance from the Government as a Fully Supported or Partially Supported resident.
Ensuring all Ferndale Gardens residents feel right at home is Ferndale Gardens number one priority. Ferndale Gardens don't want any of Ferndale Gardens residents to feel like patients – Ferndale Gardens want everybody Ferndale Gardens care for to know they're valued and respected members of Ferndale Gardens community. Ferndale Gardens nurses understand the difficulties that people living with dementia face on a daily basis, putting them in the perfect position to provide the care they need.
Each and every day, Ferndale Gardens have activities for residents that not only stimulate memories but also allow them to build new ones. Ferndale Gardens serve chef-cooked meals that residents enjoy and Ferndale Gardens can cater to special dietary requirements. You'll also have plenty of time to visit your family members so that loneliness never becomes an issue. Moreover, your loved one will make an abundance of new friends
Why are Ferndale Gardens carers so good at their jobs? Because they're genuinely passionate about what they do. Nobody views people with dementia as burden – they view residents for who they are; people who've lived rich lives and contributed a great deal to society. All Ferndale Gardens employees create deep bonds with residents, and they spend a lot of time with them to ensure everybody feels valued and respected.
If you want to find out how Ferndale Gardens make sure residents feel truly at home, don't hesitate to give them a call so that Ferndale Gardens can arrange a time to show you around.
Of course, it's crucial to remember that people with dementia require a little extra care, which is why Ferndale Gardens only employ fully qualified and highly experienced employees that know how to provide the daily care your loved one needs as well as respond to any emergencies. You can feel confident that your family member is in safe hands when they're a part of the Ferndale Gardens family. That's what Ferndale Gardens are – a family that takes care of each other at all times. If you want to know that your loved one lives in a comfortable, nurturing, stimulating and respectful environment, there's no better dementia aged care home to choose than Homestyle Aged Care - the owners of Ferndale Gardens.
In short, the advantages of living with Homestyle include:
All residents are treated with the utmost respect.
The facilities are of the highest quality and maintained to the highest standards.
They serve delicious food and encourage residents to take part in activities to remain healthy.
They provide the highest quality care to people living with dementia.
Qualified carers are available around the clock, ensuring, help is always available when required.
Pristine grounds and gardens ensure your loved one feels right at home.
Residents can make new friends and build new memories while being able to relive old ones.
You can visit your loved one 24 hours, 7 days a week.
Location
33 Jersey Avenue , MORTDALE , 2223, NSW
Residents: 136
Type: Private Incorporated Body
Provider:
Aspic Holdings Pty Ltd
Ferndale Gardens
Accreditation Status: Accreditation Report
Source: Aged Care Quality Agency
RAD / DAP Calculator
RAD / DAP Calculator - effective 1st October 2021
Select RAD Amount: $
Use the slider to enter the lump sum of the RAD
to calculate the DAP to be paid.
Lump Sum of RAD Paid : $
DAP Payment:$20.20 per day
Contact Us for more information.
Current interest rate (MPIR) is: 4.01% pa (effective 1st October 2021)
MPIR down to 4.01% on 1/10/2021
The Maximum Permissible Interest Rate (MPIR) will be reducing to 4.01% pa from 1st October 2021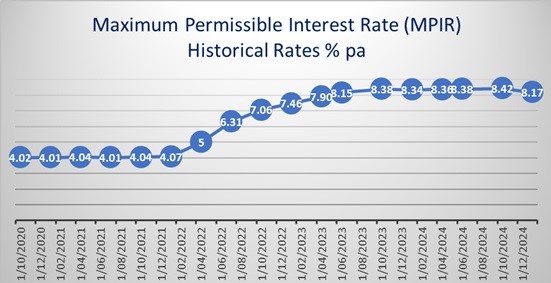 ---
Aged Care Reform Now
Senior Moves is an active supporter of ACRN.
You can join at:
ACRN Facebook
or visit: agedcarereformnow.com.au
---