---
Marten Residential Care Centre
110 Strathfield Terrace LARGS NORTH 5016
Marten Residential Care Centre
Marten Residential Care Centre - LARGS NORTH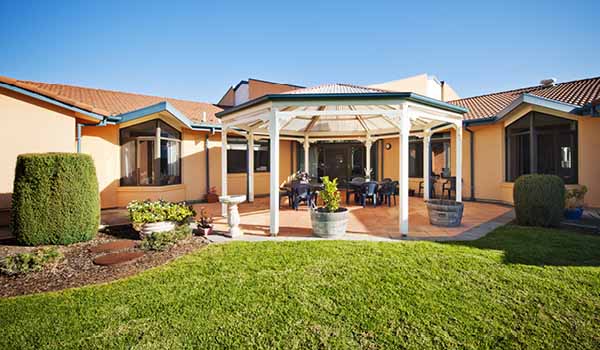 ---
Marten Residential Care Centre
Located in Largs North on the picturesque Le Fevre Peninsula there is plenty to see and do at Marten Residential Care Centre. The Largs beach is just 500 metres away, and a short drive to the historic towns of Port Adelaide and Semaphore.
Marten Residential Care Centre offers the choice of large light filled single and twin rooms with ensuites and access to colourful garden views.
The home is purposefully designed with many community spaces including a number of courtyards, garden areas and the 'Bus Stop Café' for residents, family and friends to enjoy a coffee.
At Marten Residential Care Centre they are proud of the reputation of excellence that they have built in the local community. The highly qualified and experienced staff work around the clock, every day of the year giving you the comfort and security of knowing someone is on hand to provide care and services as and when needed.
Whether the need is immediate short term assistance or long term care, They look forward to providing with with the guidance and forward planning to make the transition to care with confidence.
---
---
Have a Question ? We're here to help.
---
Marten Residential Care Centre - Location
---
110 Strathfield Terrace , LARGS NORTH , 5016, SA
Beds: 116
Private Incorporated Body
Registered Aged Care Provider:
Allity Pty Ltd
---
Marten Residential Care Centre
Access Accreditation Status: Accreditation Report
Source: Aged Care Quality Agency
RAD / DAP Combination Payment Estimator - updated 1st January 2020
Refundable Accommodation Payment (RAD) vs
Daily Accommodation Payment (DAP)
RAD can be paid as a combination of lump sum amount and ongoing daily payment.
Select the RAD for the room:
Total RAD: $
---
Use the slider to enter the lump sum payment component of the RAD payment to calculate the residual DAP to be paid.
Lump Sum : $
---
Your DAP will be: $20.20 each day
Current interest rate (MPIR) is: 4.91% pa (effective 1st January 2020)
The calculator provides an estimate only.

Contact Us for more information.