Senior Relocation Services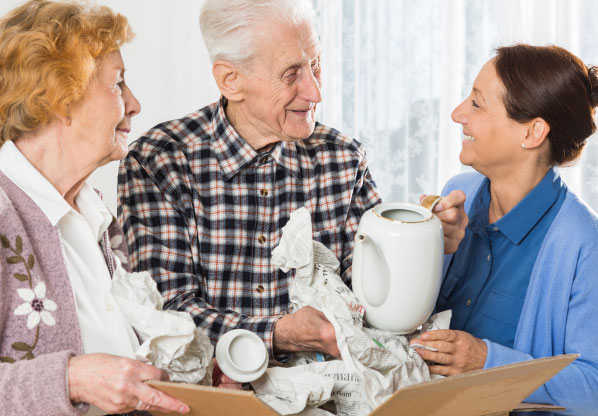 Making the move from a family home to a retirement village unit, assisted living, serviced apartment or residential care home is stressful, and many times overwhelming.
Any relocation, whether just around the corner, to the next suburb, or to another State needs to be carefully planned.
Trying to downsize any household is emotionally and physically demanding - most of the possesions having a sentimental attachment.
Would your relative or friend welcome a caring and experienced senior relocation consultant to provide assistance ?
The team at Senior Moves are caring and experienced professionals available to assist with your elderly loved one's transition.
We have been helping senior members of our community move to new accommodation since 2002 and we are experienced in arranging a stress free move for your relative or friend.
We offer a reliable, efficient, and price competitive senior relocation service.
Getting started
Request a Free no obligation first meeting - One of our experienced senior relocation consultant will visit you to help build the moving plan.
Your own tailored quote - During the initial meeting, we will explain our specialised services and develop a tailored quote for the tasks to achieve your specific needs. We will subsequently discuss the quote and your prereffed timetable with you before proceeding with the work plan.
We work to your requirements - Our services are available for a range of requirements, including moving from the family home to a retirement village, serviced apartment, assisted living or residential care home.
Making the Move
Whether you are moving to a retirement village, independent living unit, assisted living apartment, supported residential service or residential care home there are many items to consider and to plan for.
How much furniture will I be able to take ?
Can I take my own bed and comfortable chair ?
What is the floor plan and layout ?
Will my furniture fit in ?
We have a wide understanding of the concerns and tasks that need to be completed and we can do the work for you.
This means that you can focus on the emotional and personal needs of your relative during the transition time.
How SENIOR MOVES can help you:
Declutter, catalogue and sort your personal belongings
Carefully pack, arrange trusted transport and unpack in the new home
Value and considerately dispose of your items
Deliver your unsalable items to various charities of your choice
Remove all items deemed as unsalvagable
Supply professional packing boxes and materials
Make sure that the home is "spick and span" for sale or future use
We reduce the emotional stress relating to relocating to a retirement village, assisted living apartment, supported residential service, or high care nursing home.
Why Choose Senior Moves ?
We are customer responsive and you have a single point of contact to arrange the whole move
We tailor our services to meet your specific needs
No job is too small, too large or too difficult
All clients are supervised by a senior relocation consultant at all times
All key staff are employees of the company and not contractors - they have competence, reliability and integrity
We match our staff with each client to ensure a positive relationship
Our staff are carefully selected for their friendly, caring and professional manner
We are locally owned and operated and not a franchise
we offer highly competitive service with no hidden charges